Necro clicker
Spacebar Counter
Necro clicker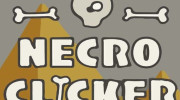 In Necro Clicker, you take on the role of an actual archaeologist and locate all the bones needed to put the statue together piece by piece. Like other idle games, this one offers very easy gameplay. To gather bones, all you have to do is tap the screen. These may be used to purchase more helpers, such as sphinxes, scarabs, and mummies, who will aid in boosting bone formation. To increase the effectiveness and potency of your clicks, improve your skills and talents.
Now play this fascinating and captivating clicker game to take advantage of the vibrant graphics and upbeat soundtrack. You may play the game in full-screen mode for an enhanced gameplay experience.
Related Game
Do you like using this game to play? Then, check out RPG Clicker for more fun!
How To Play
Click the mouse or tap on the screen to gather bones

Upgrade to increase the effectiveness