Cookie Clicker
Spacebar Counter
Cookie Clicker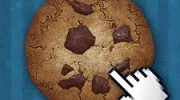 Cookie Clicker is an entertaining and addicting clicker game centered on tasty cookies. Your rating will improve if you amass a large number of cookies. People of a wide range of ages can enjoy Cookie Clicker due to the fact that the gameplay is straightforward and the visuals are engaging. Clicking on a huge cookie will start the cookie baking process, and you'll need to do this until you have enough cookies to purchase improvements. There is no need to be concerned about producing an absurd number of cookies. You will need to enlist the assistance of a large number of helpful cookie makers in order to succeed in this endeavor. Some examples of such cookie makers are Friendly Grandmother, the Farm, the Factory, and various World Portals. Have a good time!
Feature
Accumulate cookies and use them to purchase other cookies to add to your collection.

Unlock heavenly permanent enhancements for your character.

Simple to use with beautifully smooth visuals
Related Game
How To Play
Use the left mouse to click a cookie, you may win more cookies.