Getaway Shootout
Spacebar Counter
Getaway Shootout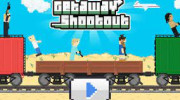 Getaway Shootout is a two-player game that can be described as chaotic yet dramatic, and it's perfect for anyone who likes playing action games. Compete against two more opponents to get mining points. The movements in this game are not simple to execute. When you are concentrating on the fight, the only way to move is to leap left or right. Throughout the course of the event, there will be more than one lap, and each one will start and finish at a different location. Make it a goal to amass firearms and any other stuff that may boost your power level along the route. Make strategic and deft use of them to get the upper hand and vanquish your foes. Have fun!
Feature
The system that requires you to "jump to move" is challenging.
The player may acquire both weapons and power-ups.
Numerous race venues
Related Game
How To Play
Move by using WASD/ arrow keys.
You have just two options to move: go left or right.