Color by Number 3D
Spacebar Counter
Color by Number 3D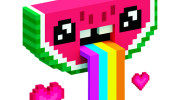 Color By Number is a unique game that allows you to engage in 3D for entertainment and relaxation. The content is appropriate for people of all ages. As coloring by numbers is a popular pastime for both kids and grownups, we've taken the time to carefully design a wide variety of fun 3D objects for you to color and personalize. In this game, you'll get to color a wide variety of images, from 3D rainbows to houses to trees to flowers to cartoon animals to people to fantastical creatures. Just by following the numbered prompts, you may bring your choice of very entertaining 3D images to life. Have an amazing experience!
To get the most out of your gaming experience, you may switch to full-screen mode. Free of charge and without the need to download any software, you may play the video game in your browser.
Related Game
How do you feel about this game? Check out other games in our 3D collection such as Tunnel Rush or Color Tunnel for more excitement!
How To Play
The left mouse button: choose the color and color the field.
The right mouse button: move around the playing field