TRZ Pop it
Spacebar Counter
TRZ Pop it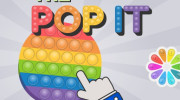 Pop TRZ It is a fun and soothing way to pass the time. All you have to do to advance through the stages of this game is click the appropriate buttons. If you're ready, touch the PLAY button on the screen to get started. To activate the toy, all you have to do is press the button. Countless forms and playthings await your exploration. The game's 3D visuals and several levels make it very addictive. It's also great for gamers of any age. You need to press every button perfectly in order to beat the game. Keep an eye on your score as you go through the game by checking the bar at the top of the screen.
Related Game
How To Play
To pop the bubble, left-click on it.

To flip the toys and bust the bubbles on their other sides, click and hold left.