Retro Goal
Spacebar Counter
Retro Goal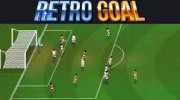 In Retro Goal, players may enjoy a fun blend of arcade football and basic club management. Take the crown at this minute! Choose a team from one of the most popular leagues in the world and fill it with the most talented superstars, pros, and players. The highlights of the attack are highlighted in Retro Goal as you follow the instructions of the management team to get the ball into the goal. By using slow motion, a trajectory is established between the pass and the shot that, no matter how well it is calibrated, can only provide modest satisfaction. If you can win the matches, you will be able to claim some very valuable gifts. The money you earn may be used to improve your facilities or to train your players so they can compete at a higher level.
Related Game
Do you like this game? Try playing other games in our soccer collection for fun!
How To Play
To dribble while holding, swipe left; to pass or shoot, swipe left a second time.