Only Up!
Spacebar Counter
Only Up!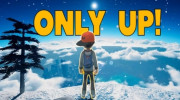 Only Up! is a really entertaining game for you to enjoy your free time! The objective is to prevail over challenges and achieve new heights. The players will encounter certain areas that are fairly simple to jump on, but there will also be other locations with limited surfaces that require them to time their leaps correctly. Take great care in everything that you do, since if you make a mistake even once, you will have to begin over. This element might be regarded as rather difficult for players, but it also adds to the attractiveness of the game: the higher you go, the more money you collect with each leap. Always maintain a rapid reaction rate, leap precisely, and climb with competence in order to avoid colliding with objects and tumbling down. Have fun!
Feature
3D graphics

Intuitive controls

Challenging gameplay
Related Game
Try playing other popular games in our arcade collection for more feeling!
How To Play
Use WASD/ arrow keys to move

Use spacebar to jump