Doodle Cricket
Spacebar Counter
Doodle Cricket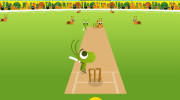 Doodle Cricket is an entertaining and addictive sports game in which the objective is to hit the ball to rack up the highest points possible. Realistic visuals have been included in this game to create an atmosphere that is very similar to that of an actual cricket match, complete with intricate stadiums, uniforms, and player motions. In addition, the game's controls are easy to understand and intuitive, making it appropriate for gamers of all ages. The success you have with Doodle Cricket is directly proportional to how quickly and accurately you can respond. Keep an eye on the ball and strike it at the precise moment when it is in the ideal position to get maximum force and precision. If you want to raise your score, you should focus on hitting the boundaries and making singles as quickly as possible. What is the highest score that you are capable of getting?
Feature
Adorable graphics

Entertaining gameplay

Simple controls
Related Game
Doodle Cricket is one of the popular google games on our website. Check out other titles such as Doodle Baseball for more fun!
How To Play
Click the mouse to hit the ball